Longshore and Harbor Workers' Compensation Claims — Injured loading and unloading vessels? Injured while working on navigable waters?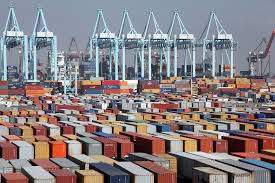 Longshore Frequently Asked Questions
Information about Compensation
Department of Labor's website, Office of Workers' Compensation
The Longshore and Harbor Workers Compensation Act is a federal act passed by the US Congress in 1927 and covers employees in occupations having a traditional relationship to maritime employment. The Longshore and Harbor Workers' Compensation Act is a comprehensive workers' compensation scheme for maritime workers who are injured on navigable waters.  The law fills a gap that exists between the Jones Act, which protects seamen, and state workers' compensation, which cover injuries occurring within a particular state, but not usually on navigable water. It initially provided coverage to longshore workers working upon navigable waters of the United States in instances in which no state workers compensation law applied. The Act was substantially amended in 1984 in an attempt to give all longshore and harbor workers the same type of protection.
The compensation system is administered by the Office of Workers' Compensation Programs, Employment Standards Administration and Department of Labor. Injured workers who qualify for coverage are entitled to disability benefits. Under the Longshore and Harbor Workers' Compensation Act, to receive benefits the worker does not need to prove that the employer was at fault for the worker's injuries much like state Workers' Compensation laws.
The Longshore and Harbor Workers Compensation Act provides workers' compensation benefits for maritime workers who are not seamen. These benefits include disability payments and rehabilitation services. The act also provides benefits to survivors when a maritime worker dies from work-related injuries. The Act also allows an injured worker to sue persons or entities, other than the employer or a co-worker, whom the worker believes to be at fault for his or her injuries. If a worker is injured on a vessel, there may be a claim of negligence against the vessel and its owner. However, the worker is not permitted to allege a claim of unseaworthiness, because that claim is reserved to seamen. The Act also offers benefits to dependents if the injury causes the employee's death. The term "injury" includes occupational disease arising out of employment.
The Act covers employers, either full or part time employed, who employ workers for maritime work or in a maritime occupation and employees such as longshoremen and any harbor worker. The Act covers individuals who are actively employed in a position that carries main job responsibilities such as longshoring operations, and any harbor worker, including a ship-repairman, ship-building and ship-breaking. Some exclusions that may apply to the protected individuals of this act are employees/employers covered by a state's workers' compensation laws, individuals whose job responsibilities are to perform clerical, security and data processing work, individuals employed by a marina but are not actively engaged in construction of any kind, vendors of  maritime facilities or temporary employees, Aquaculture workers, individuals employed to build, repair or dismantle any watercraft vessel under sixty-five feet in length, and small vessel workers who may be exempt by certification of the Secretary of Labor under certain conditions.
A Longshoreman is a person who loads and discharges cargo at a wharf or dock side; very similarly a Stevedore is a laborer who loads and unloads vessels in a port. A Shipbuilder is someone who is actively employed in the building of maritime vessels, a Ship Repairer is someone who is actively employed to make repairs to maritime vessels and a Ship Breaker is someone who is actively employed to dismantle maritime vessels. A Stevedore is an individual or fi rm that employs longshoremen (or dockers, dock workers or port workers) to load and unload vessels.
Medical Care provided by the Act includes all medical, surgical, hospital treatments and other medical supplies and services required to properly treat the employment related injury. The cost of travel and mileage to and from treatments is also covered by the Act. The injured employee/employer can choose a medical professional of his/her choice, as long as the medical professional they choose is authorized; any person can pick up a list of unauthorized providers at their local OWCP district office.
Employers of covered employees are responsible for insuring the payment of compensation and medical benefits to injured employees.
Private insurance carriers or employers who are authorized by the Department of Labor to become self-insured provide this insurance. While a Special Fund administered by the Department of Labor may pay benefits in certain circumstances, authorized insurance carriers, and self-insured employers fund most benefits under the Longshore and Harbor Workers Compensation Act.